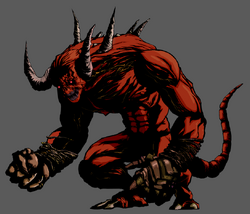 Zeta Gamma is a final boss of BloodRayne: Betrayal.
Zeta Gamma is a demon under the underground castle of Kagan. Kagan resurrected the demon and merged with his guts to fight Rayne. During the fight Zeta Gamma sucks Rayne into his mouth, but Rayne calls her Coffin Rocket down and drills through his head killing the demon. After the castle explodes, Zeta Gamma's head is thrown far with the explosion.
Powers and Abilities
Edit
Zeta Gamma has multitude of abilities, which include two types of eyelasers, super speed, enhanced strength, force bullets, and some control over light beams.
Community content is available under
CC-BY-SA
unless otherwise noted.